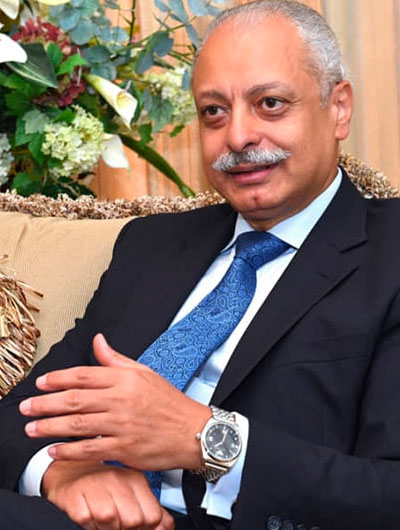 His Excellency Ambassador Ayman Aly Kamel worked for over 33 years as a career diplomat and a public service official in the Ministry of Foreign Affairs and in various Egyptian missions abroad.
He held the position of First Under Secretary of the Ministry of Foreign Affairs and presided over the Diplomatic Corps Council, the highest organ in the Foreign Ministry, managing all aspects of the legal and organizational functions of the diplomatic corps. He was also the chairman of the Egyptian Building Fund Authority which manages and maintains all Foreign Ministry properties & missions abroad.
Previously, he has served as Consul General of Egypt in Sydney, Australia from 2010 to 2014, having Jurisdiction over the states of New South Wales, Queensland and Northern Territory. Prior to that, he was Head of the Consular mission in Aqaba and Deputy Ambassador in Amman, Jordan from 2005 to 2008, looking after the interests of a community of more than 500 000 Egyptians, in addition to his role in following the regional political issues. In the period between 2000 and 2004, he occupied the position of political counselor in the Egyptian Embassy in Rome in charge of the bilateral economic cooperation portfolio and coordinating joint efforts to combat illegal human trafficking. Formerly, he was a diplomatic officer and Deputy Chief of mission working on developing Egypt's bilateral relations with several countries including Mexico and the Sultanate of Oman.
Ambassador Kamel held different positions in the Ministry of Foreign Affairs in several departments dealing with Egyptian European relations, multilateral affairs, and cultural relations; until he was appointed Assistant Foreign Minister in 2015 and assumed the responsibility of presiding over various committees aiming at optimizing the financial and administrative performance of the ministry.
He holds an academic degree of Bachelor of Arts in French Language and Literature 1986, and received a Diploma in International Relations from Geneva 1994, as well as several specialized studies certificates in Diplomacy and Negotiations from George Town University in the United States and the German Foundation for International Development in Berlin.
Mr. Kamel participated in various international Conferences and Conventions dealing with numerous vital issues such as Interfaith Dialogue, Regional development, and multilateral cooperation and he was one of the Egyptian officers responsible for convening several rounds of the Middle East Peace Talks. He masters several languages including Arabic, French, English, Italian and Spanish.
Ambassador Kamel performed numerous volunteer tasks for Humanitarian causes with Charity Organizations such as the International Red Cross, the Egyptian Red Crescent, Caritas, Rotary and Lions.
He is married to Mrs. Ghada Youssef and father of two boys aged 23 & 11 years old.