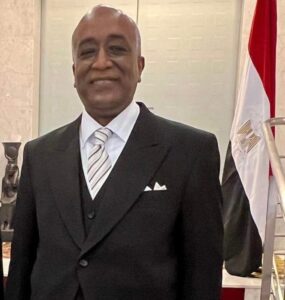 Ambassador Extraordinary and Plenipotentiary ofThe Arab Republic of Egypt to Japan.
His Excellency Ambassador MOHAMED ABUBAKR SALEH FATTAH worked for over 32 years as a career diplomat and a public service official at the Ministry of Foreign Affairs and served in various Egyptian diplomatic missions abroad.
Before taking up the current posting, he has held the position of Assistant Foreign Minister for Libya at the Ministry of Foreign Affairs from 2018 till 2021. He has alsobeen the permanent representative of Egypt to the Community of Sahel-Saharan States (CEN-SAD) starting from 2013 until 2021.
Previously, he has served as Ambassador of Egypt to Libya from 2013 to 2017. Prior to that, he was political Counselor at Embassy of Egypt in London from 2006 to 2010, following up the bilateral, regional and multilateral political issues. In the period between 2000 and 2004, he occupied the position of First Secretary at the Egyptian Embassy in New Delhi in charge of the bilateral economic & political cooperation portfolio. Formerly, he was a diplomatic officer working on developing Egypt's multilateral relations at the permanent mission of Egypt to the United Nations in New York.
Ambassador Abubakr held different positions at the Ministry of Foreign Affairs in several departments dealing with Egyptian European relations, international economic relations, and Director of the international specialized agencies (UN) at the Ministry of Foreign Affairs from 2010 till 2013.
He holds an academic degree of Bachelor of Arts, Economics, Faculty of Economics and Political Science, 1986, as well as Bachelor of Law, Faculty of Law, 1995. Also hereceived a Master of Arts in international peace studies, Notre Dame University, USA, 1993, in addition to three years studies of philosophy at Ain Shams University in Cairo from 1988 till 1991. He masters English language, as well as Arabic.
Mr. Abubakr participated in various international conferences and conventions dealing with numerous vital issues such as Libyan crisis, regional development, and multilateral cooperation, as he was one of the top Egyptian officials responsible for dealing with several rounds of negotiations to resolve the critical issue in Libya between 2013 and 2021.
Ambassador Abubakr was born on July 14th, 1965. He is married and father of three children.