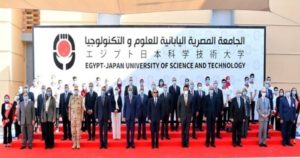 H.E. President Abdel Fattah Al-Sisi inaugurated the Egypt- Japan University of Science and Technology (E-JUST) in Borg El Arab, Alexandria, on September 16, 2020.
During the ceremony, President Al- Sisi thanked H.E. Abe Shinzo for his role in deepening and strengthening Egypt Japan relations during his Premiership, and wished him a good recovery.
In appreciation for his efforts; president Al- Sisi gave directives for naming the third phase of (E-JUST) complex after H.E. Abe Shinzo's.
President Al- Sisi also congratulated H.E. Suga Yushihide on his appointment as Prime Minister of Japan, and wished him utmost success in his new post.